Our Vision
The City of Chicago is committed to building Complete Streets to ensure that everyone – pedestrians, transit users,bicyclists and motorists – can travel safely and comfortably along and across a street. Complete Streets give Chicagoans of all ages and abilities safer, cheaper, and healthier travel options. They support economic development and can incorporate environmental services and placemaking, which helps to create sustainable infrastructure and communities. The Chicago Department of Transportation (CDOT) is working to bring these benefits to your community.
September is Pedestrian Safety Month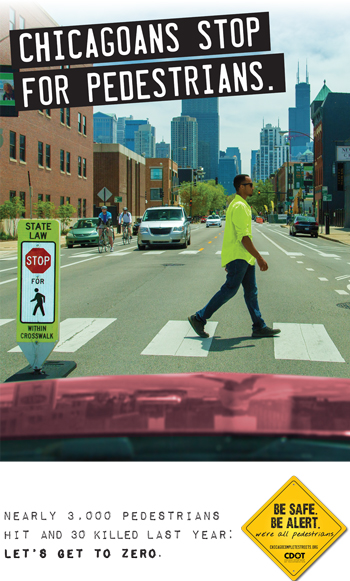 Each year, nearly 3,000 people are hit by vehicles in Chicago. In 2013, 29 pedestrians were killed in car crashes. Many of these collisions are preventable by all of us obeying simple traffic laws.
Whether walking, biking or driving, it's your duty to be safe and be alert.
While walking: use crosswalks, look both ways before crossing and avoid talking on a cell phone or dulling your perceptions with headphones.
While bicycling: share the road, obey the rules. Stop for pedestrians in crosswalks and at traffic signals. It's the law. As bicycling facilities increase in Chicago, so have fines for dangerous bicycling behavior.
While driving: stop for pedestrians in crosswalks. It's the law. Don't be surprised if you hear a police siren pulling you over next time you blow through a crosswalk in front of a crossing pedestrian. 
It's up to you. Keep your speed to 30 mph or less on city streets. The danger of killing a pedestrian or your passengers in a crash goes up as motor vehicle speed goes up.
Learn more about safe walking and CDOT's Pedestrian Safety Campaign.
Complete Streets Project: Make Way for People
Launched in Spring 2013, The Department of Transportation's Make Way for People initiative aims to create public spaces that cultivate community and culture in Chicago's neighborhoods through placemaking. Make Way for People supports innovation in the public way by opening Chicago's streets, parking spots, plazas and alleys to new programming and market opportunities via public and private partnerships. In addition to improving street safety and promoting walkable communities, this initiative supports economic development for Chicago's local businesses and Chicago's neighborhoods. Learn more about this initiative in the video below.

More information about Make Way for Play is also available on our City website.
Implementing New Design Guidelines
The launch of this website, a portal for everything Complete Streets in Chicago, coincides with the implementation of the new Complete Streets Guidelines and the Sustainable Urban Infrastructure Guidelines for every CDOT project.